Here are some of the things we get asked most often, but please get in touch if you have a question that is not covered here.
How can we book the Magic of Maths show?
Simple – just use the contact form and give us as much information about the dates you would like as possible.
Will Andrew deliver the shows in my school?
Yes.
How far ahead do we need to book?
It's hard to predict, but Andrew's diary generally fills up at least one term in advance, and some months are busier than others. For example, bookings for September, October, January and February often get filled up to a year in advance, so the earlier the booking is made, the better the chance of obtaining the date you require.
Will we be charged VAT? 
Yes – all visits in the UK are subject to VAT at the standard rate – this does NOT apply outside of the UK.
What age-range do the Magic of Maths Shows cater for? 
There are different shows suitable for everyone from Reception children to Adults.
How many children can watch a show? 
Primary: If there is space we can perform to a whole year group. Sometimes, in order to accommodate every child in a primary school, we can mix up to two year groups, but not more. This is to ensure that the content is pitched appropriately. The exception is that Reception children are welcome to join in with the KS1 show; the content is suitable for all three year groups.
Secondary: In a secondary school, in a day we repeat the show for one year group which is split into 2 halves. In some cases, it may be possible to perform for a whole year group, in which case it is possible for two whole year groups to see a show, one after the other.
How should the audience be seated?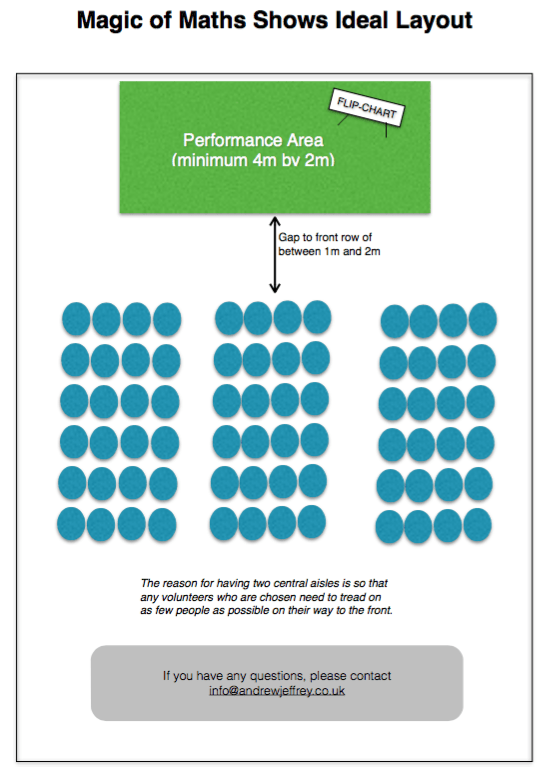 How many shows can take place in the day? 
Secondary schools: two shows, specifically one year group cut in half, or two whole year groups.
Junior schools: an hour-long show for years 3 and four and an hour-long show for years 5 and 6. If required, Andrew is also happy to do a whole-school assembly.
Primary schools: 3 shows – Reception and KS1, Y3/4, and Y5/6.
Infants schools: 2 shows – children can be grouped as necessary, but we recommend a FS show and a KS1 show.
How long is each show? 
EYFS/KS1: 45 mins
All others are 60 minutes long.
What is the content of the shows? 
The shows feature professional magic tricks (Andrew is both a teacher and a professional magician and personally trains all of the presenters) all of which either work by mathematics or which address some aspect of the children's learning. The shows aim to raise confidence and understanding in mathematics, and are designed to meet the needs of those who love maths and those who are more reluctant to engage with it. There is a mixture of humour, bafflement, explanations, and audience participation, with members of the audience coming up to help. There are tricks with numbers, tricks with shape, money, mind-reading, illusions, and more. Some tricks are revealed, others are not. The show covers aspects of the National Curriculum for mathematics, including number, calculation, shape and space, fluency, reasoning algebra (optionally for y6 and above) and more.
What is in the 'Magic for Kids' book?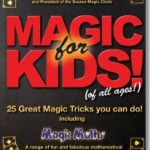 This is a book for children who love magic. It contains lots of easy-to-do tricks, most of which work by mathematics. So children will be enjoying performing magic and doing maths for fun into the bargain. The school receives a free copy, and also gets £1 per copy ordered as a 'thank-you'.
Do children need to see the show to read the book (or vice versa?)
Absolutely not. Although some tricks from the book sometimes appear in the show, the book is designed as a stand-alone guide to help children learn and perform their own mathematical tricks. As part of the visit you will receive a letter to send to parents inviting them to order copies at a 40% discount. They are under no pressure to do so but we do ask that you send the letter out either in paper or electronic form.
How much does it cost for a visit? 
INSET/CPD fees vary depending on the number of delegates/schools attending. There is a reduction for packages of 4 or more days of support. For 2020/2021 the Magic of Maths author visits in the UK remain unchanged at £600. Travel is charged at either 45ppm (driving to and from BN2 8HS) or the cost of public transport. If an overnight stay away from home is required, or a round-trip of 5 hours or more (as arbitrated by Google Maps) there is a £100 per night surcharge which also includes ALL food and accommodation. Alternatively, many clients elect to book and pay for a dinner, bed and breakfast option themselves in which case the £100 is waived. There are NO hidden extras, and the school also receives £1 per book ordered (as explained above). Please email our team for details of overseas fees.
Is there a deposit required? 
Not currently. An invoice is sent well in advance as part of the information pack (see the 'What do schools receive?' section) and only needs to be paid on or before the day of the visit. Payments can be made by cheque or BACS.
Can the show be performed anywhere in the world? 
Pretty much, but some places are too far to come for a single day so we might ask for a minimum two-day booking or for two nearby schools to book adjacent days, which halves the travel expenses. For example, several secondary schools use one day for one of their own year groups, and the second day for their feeder schools.
Can we have a discount for multiple days? 
Yes. There is a £50 per diem discount for bookings of two consecutive days. If two schools that are near each other each book adjacent days at the same time, they both receive a £50 discount. This discount only applies in the UK.
What do schools receive after booking? 
All schools booking a show receive a welcome pack well in advance of the visit. This contains a letter to give parents, a link to a downloadable Word version of the letter, a free copy of Magic for Kids book to keep, some flyers, posters, a checklist and an invoice.
Are there any teachers' notes provided? 
Yes. After the visit, schools will receive a link to free teaching materials, including some teachers' notes from the show.
What do we need to provide? 
Usually very little. A hall, a flipchart (for Y5 upwards), a microphone on a stand, a table and chair, and a jug of water are all that is needed – everything else is provided. If the presenter is traveling by car, which is usually the case, a parking space as near to the performance area as possible.
Can we book shows and INSET training for staff? 
Yes, but it is not always practical to hold these on the same day. The day before or after is usually better.
What about delivering parents' evenings? 
Absolutely, and this can be done on the same day. There is an extra charge, but it is very cost-effective as there are obviously no extra travel costs involved.
Can we take pictures for our own publicity/OFSTED/Local Press?
Yes, but strictly no video or audio recording is permitted. Please make sure that ALL staff who attend are aware of this.
Can we Invite Parents to watch?
Absolutely, they are always welcome.
Can we find out what other schools thought about the Magic of Maths shows and CPD support?
Of course. Visit the testimonials page to see a selection of genuine comments. There are hundreds but we only show a few at any one time. No point overdoing it!
What about CRB clearance and Insurance?
All Magic Message staff hold full enhanced DBS clearance, and £15 million of professional indemnity insurance through membership of Equity. Certificates are available to view on request if required.